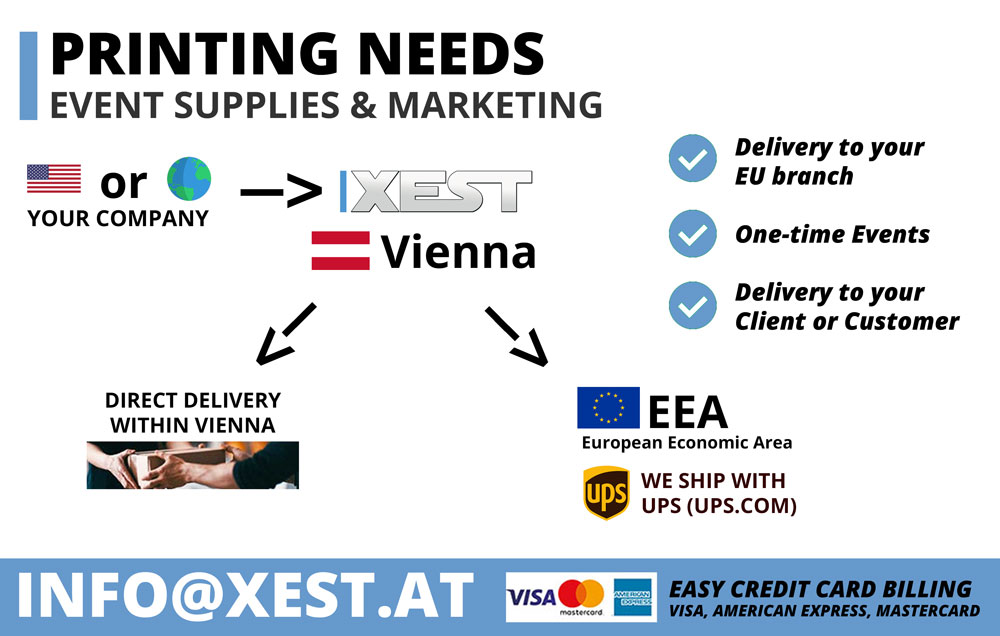 Does your US based company operate a branch in Vienna or EU?
Sending printing items overseas causes a lot of effort and expenses. Why hassle with import taxes, damages or total loss during transport when you can print directly local with us? XEST specializes in long- and short-term partnerships with all scale businesses from the USA. Deliver your prints directly to your branch or customer in Vienna with us! Short turnover time and easy overall experience guaranteed! Our customer service is available during business hours of your timezone.
We accept simple payment by all major USA credit cards. Visa, Mastercard and even American Express. Don't deal with inexperienced websites who only accept European-domestic credit cards.
We welcome all international companies, promise a tailored and seamless solution for all your printing matters.
---
Budget & Funds filling service
Does your NGO or large-scale company have a budget that needs to be fully used until a deadline? During the COVID-19 pandemic in 2020 many companies and NGOs faced an issue. A fixed internal budget or from a sponsorship needs to be filled.
Don't get your funds decreased for the next period. We are here to help! XEST offers pay-now receive later service. Pre-order items that can be used for a later event or any other occasion. Produce items that meets the funds that needs to be used. Store items that you have already purchased from us at our warehouse at no cost for up to 6 months!
---