XEST provides top-quality scientific poster printing and shipping services to all European countries within the EEA (European Economic Area).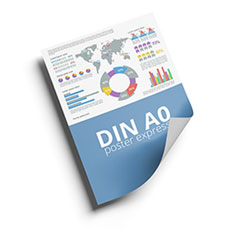 Our printing service is ideal for pharmaceutical agencies and companies that need to showcase their research and findings at conferences, trade shows, or other industry events. With our service, you will receive professional-looking poster that will impress your clients, colleagues, and competitors. Scientific posters is what we specialize for!
We use high-quality materials and the latest printing technology to ensure that your poster looks sharp and vibrant. Plus, we offer a variety of sizes and formats to fit your needs. You can choose from a range of materials, including glossy, matte and also durable materials.
When it comes to shipping, we've got you covered. We partner with UPS to provide fast and reliable shipping to all European countries within the EEA. You can rest assured that your poster will arrive in pristine condition and on time.
If you or your client/representative is attending a conference or event, we can even ship your poster directly to your hotel. Just provide us with the necessary details such as hotel address, guest name and check-in date. We'll take care of the rest!
Our goal is to make the process of printing and shipping your scientific poster throughout the EU and EEA as easy and stress-free as possible. We created this service because many of our customers had a positive experience with us when we printed their posters for a conference in Vienna. After that, they requested that we provide poster printing services for all their needs throughout Europe.
We understand the importance of showcasing your research and findings in the best possible light, and we're committed to helping you achieve your goals.
So if you're a pharmaceutical agency or company in need of a scientific poster printing and shipping service, look no further than our website. We're here to help you showcase your research and findings and stand out in a crowded industry.
Sample price below. Recommended & best selling material for scientific posters: